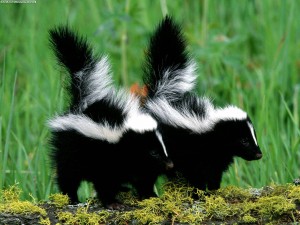 Occasionally in our back yard, we get some skunks. This is not really a common site but we do get one or two skunks roaming in the ravine in the summer months. I am not really sure if it is one or two because it is hard to tell the difference. If there are two they really look alike. Even though we didn't mind, a neighbor decided to contact a skunk removal Toronto technician to take care of the issue particularly because of the smell.
I wouldn't mind to have the opportunity to monitor our skunks a bit more. After doing some research I learned that skunks are intelligent and usually good natured which is something that validated our experience with them. Our neighbours primary concern is that their smell. Also, it was the issue of rabies. A lot of skunks, more so than raccoons, can carry rabies. In that sense I agreed to have them removed from our area.
Skunks are primarily nocturnal animals, preferring to hunt at night for grubs, insects, small rodents, carrion, fruit, berries and other food items. In urban areas, they can feed on pet food, garbage, fruit that has fallen from trees, and garden vegetables. After we had our garden protected it wasn't that much of my concern if they would get into it again.
I wasn't sure if they lived near by or they traveled from further away and just learned that there was food in our back yard. I know that skunks are burrowing animals that choose to make their dens under porches, decks, sheds, in wood or rock piles and are capable of digging a den a foot underground. While I didn't find any such burrow in our backyard I didn't really search in the ravine so I am not 100% sure about where they stayed.
Skunks are well-known for the way they defend themselves and our neighbours dog found out first hand. Skunks have a special gland in their butts that sprays a foul-smelling liquid. Since our neighbours dog got sprayed there wasn't much we can do to convince them not to call wildlife control Toronto officers to remove them.
Oh well, maybe next year we will see some skunks again.