Aside from the raccoon family frequently visiting our property we also have several squirrels roaming the ravine behind our house. This is great for our kids, as they can spend time looking at the squirrels when the raccoons are not active. While we have thought we contact squirrel removal Toronto on multiple occasions, and I will explain why soon, we decided to actually co-habituate with the squirrels and enjoy their company.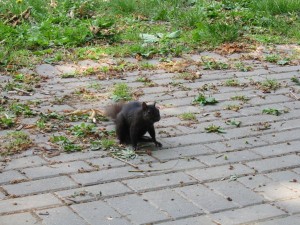 The reason why we seriously considered getting an animal control Toronto technician visit our property and trap the squirrels is because they started damaging our garden and tried to make their way into  our attic.
While squirrels are definitely cute, no one can contest that, they can slowly dominate or even destroy our bird feeders. Every time we placed seeds in the feeder squirrels made their way to have an easy lunch. This defeated the purpose of having a feeder as all the birds were scared away.
In the spring and summer months my wife also cares for our garden. We plant several different types of flowers, and as many Toronto residents too we plant a small tomato and lettuce garden for fresh salad. Well as you can imagine the cute squirrels wreaked havoc on our garden, flowers, shrubs in their search for food. While squirrels can become a nuisance around bird feeders, frightening birds and scattering seeds they damaged our garden too.
We solved the garden problem by building a little fence. The bird feeder issue was dealt with by limiting the feedings with less food and on certain times. We also made an effort to keep the feeder clean to deter any animals.
We decided not to have our squirrels captured and removed with traps. There are many online resources about squirrel removal out there. Even though we were told that the trapping wont harm the animals we decided to adjust our backyard setup instead.